November 15, 2023
Angel Becomes 'Sister' to Operation Smile Patients in India
Holy Angels student Isabella Zahirudin ('25) joined the Academy's Operation Smile organization two years ago with the goal of helping people with cleft lip and cleft palate access no cost corrective surgeries. In October, this resident of Stony Point, New York, traveled to Bangalore, India, as one of two U.S. residents to participate in an Operation Smile Surgical Program.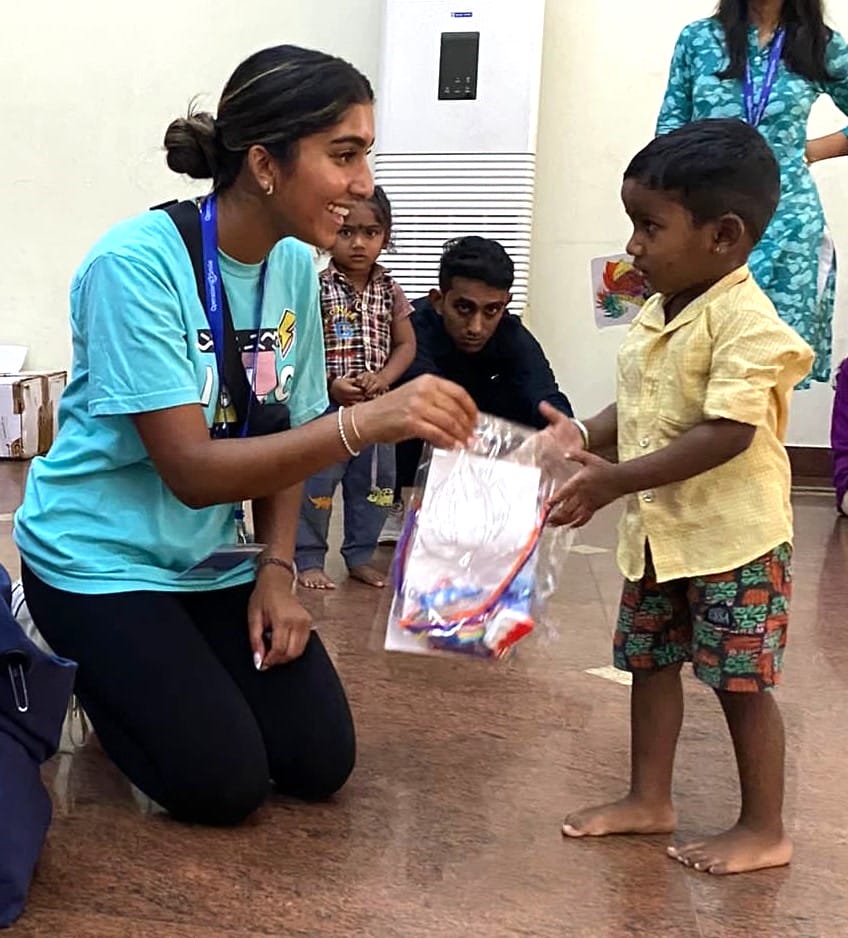 "I never thought I would make it this far and be given the opportunity to go on a surgical program," Zahirudin said. "I knew that, if I was able to, I would want to see where all of my hard work goes and to see the end result, ultimately putting all of the pieces together.
"Overall, this was the most amazing experience that I have ever had…I will forever be impacted by my experience on the surgical program in Bangalore, India. It was amazing being able to see the tangible effects of my hard work over the years and has only made me more dedicated to Operation Smile. Every decision I make going forward in my life will forever be impacted my experience, and I am so grateful."
Zahirudin's path to India led her through Lima, Perú, where she attended Operation Smile's July 2023 International Student Leadership Conference. At that time, she also completed her mission training, and became one of a select few chosen for a medical mission.
She also received the organization's 2023 Francine Peterson Award for "strong dedication to helping the community and demonstrating qualities that inspire others and prove that involvement can create a positive change." Laura Kraytem, AHA's Op Smile moderator, nominated Zahirudin for this honor.
Student volunteers who successfully apply for mission trips work directly with the families of children who receive Operation Smile's life-changing, no cost corrective surgeries. Student teams present health modules on nutrition, handwashing, burn care, and dental hygiene to the families at the hospital and during off-site visits to schools and orphanages. Entire villages benefit from learning how to get the nutrition needed from local foods, how to stop the spread of germs, and what to do if they are burned from cooking over an open fire.
Zahirudin spent the time leading up to her journey spreading awareness and raising monetary donations for Operation Smile India.
"My job was to fundraise material goods that we could bring for children and families that we would be working with for the week," Zahirudin said. "I worked for several months to gather donations. I wrote to local hospitals, city hospitals, and dentists' offices to receive toothbrushes, toothpaste, and floss donations. I gathered fun things, such as stickers, coloring books, and bubbles myself; however, I worked with my school club, Operation Smile AHA, to gather last-minute donations of crayons that would be a big hit with the children and adults at the hospital and shelter," she said, adding that a local tennis club also donated 200 tennis balls.
In India, Zahirudin was riveted when she had an opportunity to observe the surgeons at work.
"I was able to observe several surgeries that were happening simultaneously," she shared. "I watched three surgeries being performed by three different surgeons. They were all cleft palate surgeries and it was difficult to see everything that was happening, so the surgeons and staff made room for me to squeeze in next to the surgeon to watch the surgery closer."
The team explained what they were doing and why.
"Being able to change someone's life in a mere 45 minutes was something that I truly admired," Zahirudin said, noting her esteem for the surgeons she met.
"It was challenging to learn the language while I was away because there are several main languages of India and some branches of those languages," Zahirudin noted. "I thought that it would make it more difficult to connect with the children and I worried how much it would affect the program; however, I did not experience any problems getting to know the kids and being able to connect with each and every one of them. I became so close with them that, halfway through the experience, they were calling me a name in their native language that meant "older sister." When I learned the meaning of this name that they were all calling me, I was completely shocked and I felt so connected to each and every one of them. I learned that even with a language barrier, they could still feel my love for them and that I was there for them."
One day during the trip, Zahirudin and her peers were given time to explore the city of Bangalore.
"It was amazing to see how the traffic of the world's most congested city flows. I loved being able to see the locals eating on their lunch breaks on the sides of the streets at local vendors. One day, we had some time in the afternoon and we decided to go shopping in a local mall. This was especially fun because that was the same night of the Pakistan vs. India cricket match, which is a very big deal. People in the mall were gathered around a very large screen to watch the game. People on every floor leaned on the railings to get a good look at the screen. It was so cool to see a local sport that is so loved."
News