June 06, 2023
AHA Blog: AHA Middle School Offers Growing Range of Activities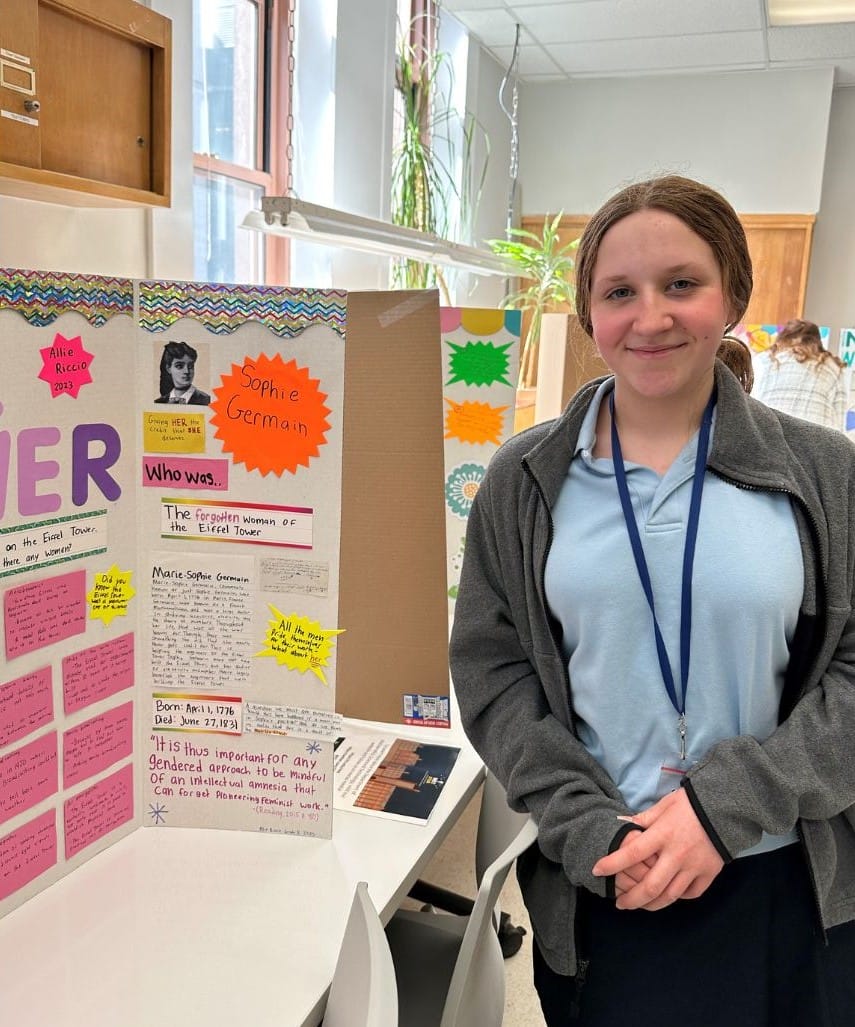 Life is busy at the Academy of the Holy Angels Middle School — and in the best possible way. Besides taking classes from some of the area's most dedicated educators, Angels in Grades 6-8 have plenty of opportunities to explore their interests with AHA faculty and Advanced Placement students, and even a college professor.
The list of activities has been expanding since AHA Middle School opened in 2021. Here's what's happening.
Early this year, AHA Middle School established the Academy's very first chapter of Women in Science and Engineering. (Everyone here calls this program WISE, for short.) Participants spent several weeks working with Dr. Jessica Riccio, a science professor from Columbia University's Teachers College. Angels learned laboratory procedures, how to keep scientific notebooks that protect their work, conducted experiments, and delved into their own research. The Angels presented their inventions, and findings about animal habitats, glacial erratics, what happens when different liquids are combined, and more at Columbia University's STEAMnasium on March 8, the International Day of the Woman.
The girls also learn as they collaborate with Advanced Placement students. A few recent highlights included a "pop up" health fair and an exciting experiment in the upper school's chemistry lab.
In the fall of 2022, the middle school and upper school joined forces on a special fundraiser. Middle school students helped Angels for Veterans with their walkathon. Together, the students raised funds to assist Pups4Patriots. As of this spring, school leaders are considering future fundraising activities to benefit other causes.
Students in Grades 6-12 also join together for some school-wide assemblies and liturgies.
AHA Middle School has its own Student Council for Angels who want to share their peers' ideas with the faculty and Dean Traci Koval.
Students who love to lead may also apply for a chance to become a Halo Helper. Halo Helpers offer personalized campus tours to younger students who are thinking about applying to AHA, and those who have already been accepted.
Performing artists have plenty of options at AHA Middle School. They can sing with the choir, play handbells (there are special groups for beginners and advanced ringers), or showcase their talents in the orchestra or advanced ensembles. Vocal and instrumental musicians perform at the Christmas Concert and at the Spring Arts Festival, a brand-new event that features drama, fine art, music, and dance.
Did you know that the AHA Middle School Dance Team holds the 2023 state titles in both pom and hip-hop? Dedicated dancers are invited to try out for the squad, which participates in highly-regarded competitions, including the UDA Nationals.
Students who enjoy being on stage are welcome to join the Drama Club, which meets during the school day, or the after school theater group that stages a spring production in the upper school's auditorium.
Creative arts groups are also available for students who enjoy expressing themselves through activities such as calligraphy, origami, jewelry making, and more.
Middle school is a perfect time to pick up (or continue) a sport. Angels have a blast playing for the volleyball and/or basketball teams. They also participate in sports clinics in bowling, softball, tennis, volleyball, and running. AHA's varsity coaches host the bowling and tennis clinics.
Angels who can't wait to get the scoop, ace an interview, and share headline stories have been getting involved with the school newspaper, cleverly named "Angels Ink." Participants learn about journalism, page design, and much more.
Writers and photo editors who want to save memories for the future enjoy working on the yearbook team.
On Service Day, Awareness Day, and Retreat Day, guest speakers show students how they can make a difference in the community. Angels learn and work together as they carry out activities such as cleaning the environment, discover the roles of service dogs and support animals, or prepare meals for someone in need.
Middle school students who earn top grades receive special honors each quarter. Angels who maintain outstanding averages are named to the Dean's List or the Honor Roll. Honorees stand up for recognition at the school-wide assemblies that include Angels in Grades 6-12. This year, several middle school students were inducted into the National Junior Honor Society, which is for students who demonstrate exemplary scholarship, leadership, character, service, and citizenship.
Some activities are simply about having FUN. Angels from the middle school love visiting with their relatives on Grandparents' Day, participating in Field Day activities, and taking class trips that include plays staged by local high schools. Family Movie Night is also a popular event, and a time for new families to meet friends from the AHA community.
As new students enter the Academy, favorite activities shift. Dean Koval shared that some students recently expressed interest in several different areas. The middle school is looking into the possibility of adding activity groups for the exploration of robotics, coding, and debate; and clubs that focus on leadership, fine art, and book discussions.
We'll see you in September!
News