The Arts Program is founded on the belief that each student at the Academy has unlimited creative potential. Students are encouraged to explore and develop mastery in a variety of artistic outlets.
AHA's co-curricular Performing Arts program is exciting, extensive and comprehensive. Productions draw enthusiastic audiences and have received awards from local theater organizations.
By participating in the Visual Arts at AHA, students find the confidence to create beauty in the world and celebrate their individuality. Students' works are recognized by national programs and students are consistently accepted into the finest art schools in the country.
Fine and Performing Arts Honor Societies
National Art Honor Society
International Thespian Honor Society
National Tri-M Music Honor Society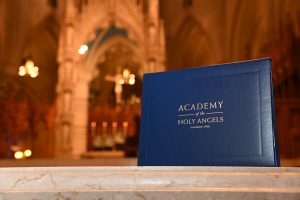 Hall of Fame
Fine & Performing Arts Awards
Arts Alumnae
Music in our Schools Month
During March, in conjunction with the National Association for Music Education, the halls of Holy Angels are filled with music. "Music in our Schools" month is celebrated with random acts of music which range from a drum circle to Celtic flute on St. Patrick's Day. 
County and State Honors
Each year, students audition for the Regional High School Band and Regional High School Orchestra, as well as the New Jersey All-State Orchestra and the BCMEI sponsored Bergen County Honors Band and have been successfully accepted as members of these honor ensembles. 
Fine and Performing Arts Department